Apathy for Beginners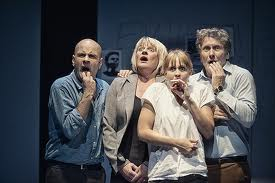 "Fiction meets reality. Blanks are filled with fabrications and speculations; the point is that here they are not claimed to be anything but that. With clichés and black humour Apathy for Beginners invites you to think in troubling terms about urgent questions, without either simplifying or avoiding the question of guilt."
Kristina Hermansson, Svenska Dagbladet
The Apathetic is a book that is impossible to turn into a theatre play, that's what got me interested. Thus the author and playwright Jonas Hassen Khemiri summarised what made him want to give his picture of the scandal, taking the book of Gellert Tamas as his starting point.
Just like Khemiri's earlier works, such as the celebrated books One Eye Red and Montecore, the play Apathy for Beginners is a journey between the laughter of absurdity and the melancholy of gravity. A play at high pace that makes you laugh – and think again.
Apathy for Beginners, directed by Nina Wester, opened at Folkteatern in Gothenburg in the autumn of 2011. Since then it has toured Sweden with Riksteatern. In the spring of 2013 it was performed at Stockholms Stadsteater, under the direction of Sara Giese.
"To be able to make black comedy out of this half-forgotten scandal is tremendously deft. The play is terribly cogent and efficiently told at a high pace. One of its mottos is that each individual is responsible for their own actions, or for their lack of reasonable measures."
Mats Hallberg, LO-Tidningen
"It is an amazing achievement to turn an actual scandal from only a few years back into crushing comedy and brilliant theatre. But then Khemiri is a masterful stylist. And Nina Wester – who had an astounding success at Riksteatern with Johan Hilton's No Tears for Queers – is a director with a unique sensitivity."
Sven Rånlund, Göteborgsposten